The Millionaire Quiz: Did you count too soon?
When I graduated from college, I quickly realized one fact. I wanted to retire by the age of 50. I thought at the time I should save and have a million dollars in the bank for my dream to become a reality. But realized the second fact quickly. Working a 9-5 alone would not yield my desired results. Thus my love for investing started.
Striving to be a millionaire sounds good, but if you do the mat,h it's not that impressive any more thanks to inflation. If you retired today at 65 with $1 million and no Social Security, you'd only be able to spend $40,000 – $50,000 a year for 25 years until you'd likely run out of money. Goodness forbids you don't face any exorbitant medical expenses, either.
The minimum wage in America is now between $8 – $15 an hour, and gas is anywhere from $3.3 – $4.2 a gallon depending on where and what type you get. I think it's interesting that the minimum wage used to be 4X the amount of one gallon of gas. Now the gap has fallen to only ~3X as the cost of goods has surged faster than wage inflation.
It's vital to grow your earnings faster than your costs, and increase that gap as wide as possible.
Current Prices vs. Historical Prices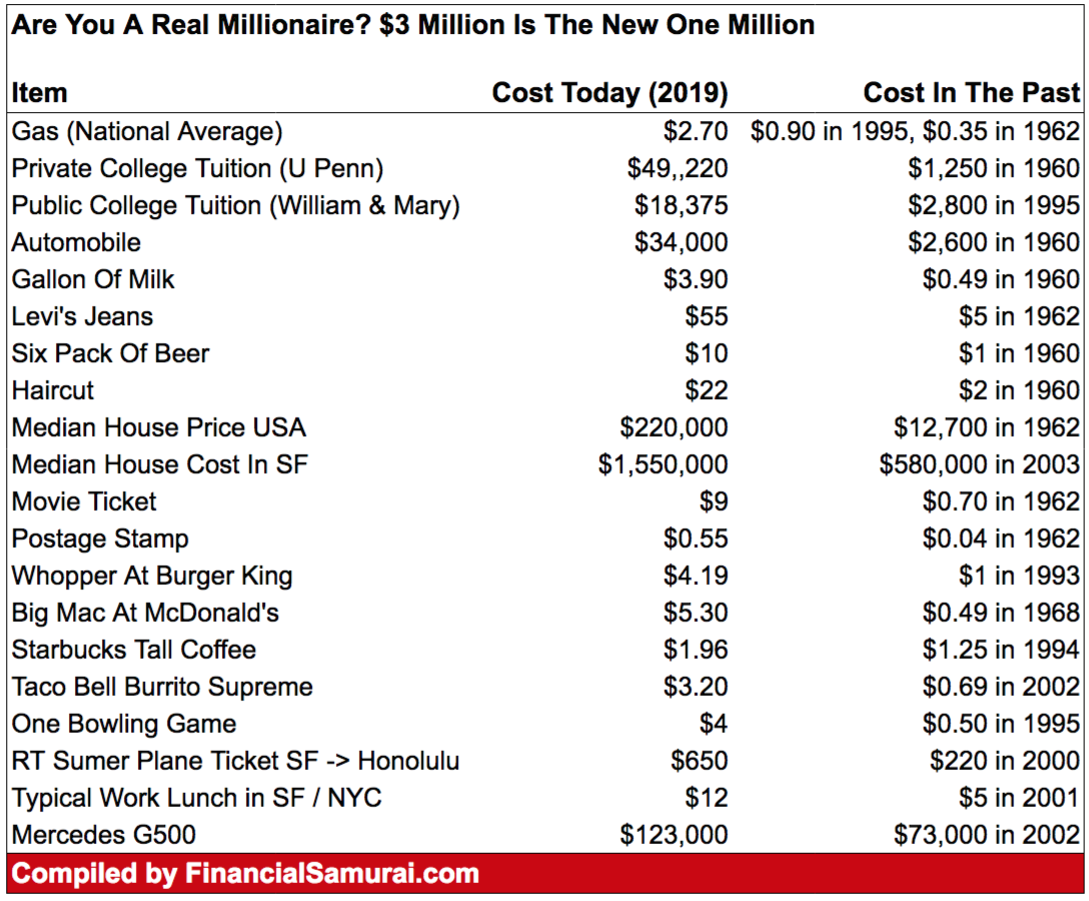 Being a millionaire isn't a ticket to mansions, yachts and caviar, as it once was, but the goal is more reachable than ever. According to Phoenix Marketing International, a firm that tracks the affluent market, 6.2% of U.S. households now have investable assets of $1 million or more.
That's only one way to measure if someone's a millionaire, of course. A net worth of $1 million also qualifies; subtract liabilities, including mortgages and car loans, from assets, including home equity and retirement savings, to determine your net worth.
Either way, hitting the million-dollar mark is no small feat.
Being a millionaire is nice, but it's not what it used to be. Shoot for a $3 million net worth if you're going to shoot for millionaire status.
With a $3 million net worth and no government support at age 65, you can now spend a much more luxurious $120,000 a year or so until you run out of money in 25 years.